Mt. Fuji mud untold story
*Discover the effect of Mt. Fuj mud
*Mt. Fuji mud as a quasi-drug
*Mt. Fuji mud to "Hijiriko" as bath agent
*"Hijiriko" to cosmetics
*"Purely Japan-made, rare and unmineable" ingredient
*Producing beautiful skin ingredient "silicon"

HIJIRIKO SERIES
HIJIRIKO MUD PACK
HIJIRIKO CLEANSING
HIJIRIKO SOAP
HIJIRIKO LOTION
HIJIRIKO ESSENCE
HIJIRIKO CREAM
HIJIRIKO FACEMASK
HIJIRIKO SERIES GIFT SET

GODAI Co.,Ltd.
193-0932
331 Midoricho, Hachioji-shi,
Tokyo Japan
Tel:+81-426-25-6822
Fax:+81-426-27-6004
http://www.hijiriko.com

Mt. Fuji mud untold story

Discovering the effect of Mt. Fuji mud
In 1962, a potter, Syunen Hosokawa, moved from Kyoto to the foot of Mt. Fuji named Narusawa village. He had chilblains and his hands were very rough after pottery in Kyoto for a long time. After a while, he noticed that his hands became smooth even in cold upland. Originally, the mud in Narusawa village area was used as ceramics raw materials and afterwards he discovered efficacy of the mud as bath agent for neurosis and poor circulation. Then, doctors from local hospitals and local pharmacy association were involved and a full-scale study on efficacy of the mud started.


Mt. Fuji mud as a quasi-drug
The composition analysis of the mud was made by Central Hot Spring Research and complete academic research/study was conducted. Then, a clinical trial was conducted for mainly pregnant women and infants. In consequence, it was verified that the mud is effective to improve skin conditions. On Oct 5th 1972, the Health and Welfare Ministry (now Health, Labour and Welfare Ministry) approved the mud as a quasi-drug for bath agent. (Approval No.: 47D-287)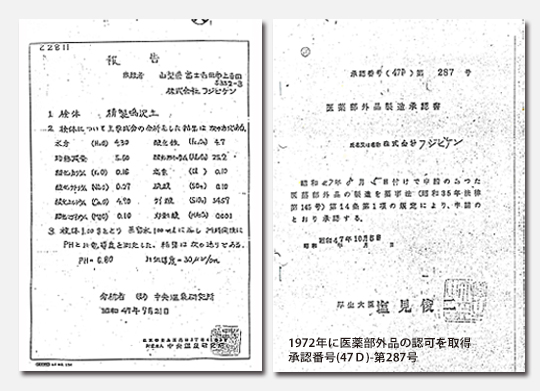 Mt. Fuji mud to "Hijiriko" as bath agent
For commercialization, with support from local companies and notables, the mud was carefully selected from a mine in Narusawa village area. The mud was pulverized into powder, filtered with groundwater from the foot of Mt. Fuji. Then, it was sterilized at 150 deg.C for 24 hours, cooled down, sieved into 250 mesh and packed. It was named as Hijiriko. In March 1973, Fujibiken Corporation, launched bath agent "Hijiriko". Thereafter mass media such as TV and radio covered "Hijiriko" and, a renowned department store started sales of it and a lot of attention was gained from the beauty industry.

"Hijiriko" to cosmetics
In September 1993, we, Godai Corporation, purchased the total amount of Hijiriko from Fujibiken Corporation after focusing attention to efficacy of a quasi-drug and the main ingredient of silicon (silicic acid) from natural minerals contained in Hijiriko. Soon after, we started R&D activities for cosmetics. In January 1996, approval for manufacturing cosmetics with "Hijiriko" was obtained as approval No. 08C-0188 through co-development with our alliance factory. Since then, we've been dealing with natural type of cosmetics making good use of Mt. Fuji mud, which has rarity value and contributes to beautiful skin.

"Purely Japan-made, rare and unmineable" ingredient.
Mt. Fuji mud is ore mud that contains abundant minerals. Originally, Mt. Fuji was an underwater volcano 30 million years ago, which was upthrusted later on. After years, shellfish, seaweed and fish were fossilized and accumulated as component of the mud. Our ingredient, Mt. Fuji mud, was mined from very limited area of Narusawa Village in a limited way at that time, which makes this ingredient rare and we are a sole company who has this ingredient in today's environment. Now, a local community center has been built on the mining area at the time and Mt. Fuji was designated as the world heritage in 2013. Therefore, no further mining is permitted (We have an abundance of this ingredient, therefore, we have no issue for production of our cosmetics).

Our products are reborn over a half-century after the discovery of Mt. Fuji mud. We believe our customers will be satisfied with our original products, "Hijiriko" series, natural type of cosmetics containing abundant minerals that represent Japan.
Copyright (C) 2016 GODAI CO.,LTD. All Rights Reserved.